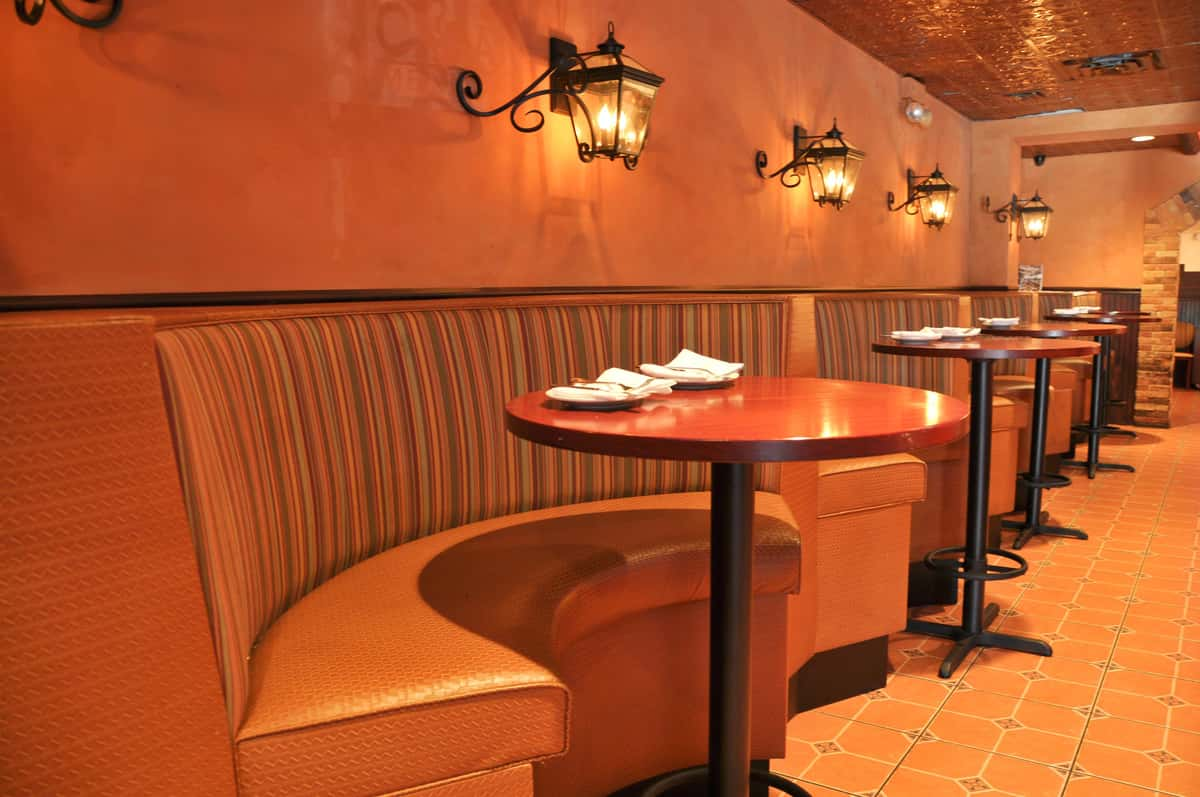 Press
Passport to Brunch: Feed Me TV
Explore the world with these international Long Island weekend feasts.
A Spirited Mexican Spot With A Pedigree
There's a jolly fiesta atmosphere at Caracara Mexican Grill in Farmingdale. Diners entering the four-month-old restaurant on Main Street first encounter an attractive, popular bar, with a pressed-tin ceiling and Mexican tile floor. There, patrons nibble warm tortilla chips and sip the restaurant's signature drink: a classic frozen margarita swirled with a pomegranate-hibiscus variation.
Those heading back to the dining room find a space with dark wood floors, wrought-iron hanging lanterns, striped banquettes, booths and upholstered chairs, plus a wall of niches filled with flickering electric candles. Every table features another such light, set in a gold glass container.
If the wall of candles is reminiscent of the Besito restaurants in Huntington and Roslyn, the Island's premier Mexican establishments, it's not a coincidence. The owners of Caracara are alumni of Besito. Tony Kathreptis was the general manager of both Besitos, and Peter Rousakis worked at the Roslyn restaurant.
Another reminder of Besito is the rolling cart where waiters make guacamole to order at customers' tables, mashing the ingredients using a mortar and pestle called a molcajete. The perfect accompaniment is the basket of warm tortilla chips, which arrive, with two salsas, the moment diners are seated.
The chef at Caracara is Richard Caruso, who was most recently executive chef at Pelea Mexicana and previously worked at Rosa Mexicano, both in Manhattan. Be sure to try his spirited tortilla soup, thick with shredded chicken, cheese, avocado and julienne strips of crisp tortillas. The ceviche of the day is another must; made with small, firm, tasty shrimp the night we tried it, it was attractively presented in a stemmed glass.
The house salad, mixed greens accented with jicama, nopales (the pads of prickly-pear cactus), avocado and mango in a just-right pomegranate vinaigrette, was a generous size and only $6.
The cheese quesadilla disappointed one diner at our table; it was burned, and she found the filling too spicy for her taste. An owner noticed that the dish was uneaten and offered to replace it with something else. We declined and were surprised later when our waiter pointed out that the charge for the quesadilla had been removed from the bill. That gesture was typical of the accommodating attitude at Caracara.
Our favorite entrees were the fish: red snapper baked Veracruzana style in a sauce of tomatoes, sweet peppers, olives and capers, and salmon manchamanteles ("tablecloth-stainers"), with the fish resting on a fruit mole sauce and a bed of spinach. It was beautifully roasted and fell into thick shards at the touch of a fork.
We also liked the grilled double-cut pork chop in a mole amarillo, and the huge portion of tender short ribs slow-cooked in beer. Tacos a la plancha, in which diners make their own tacos from an assortment of ingredients including meat, melted cheese, salsas and soft corn tortillas, were a hit, too. We especially liked the grilled hanger steak version, with meat cooked as ordered.
The rice and beans that accompany many of the entrees are not nondescript mounds on the plate; they are tasty accompaniments that arrive in separate ramekins. The rice is flecked with pumpkin seeds, herbs and a bit of spinach; the beans are lightly refried black beans, cooked without lard.
Desserts, made in house, are worthy finales. Only the berry tres leches cake was disappointing, with a few berries and a coarse texture. The warm skillet apple pie with vanilla ice cream and caramel sauce on the side was our favorite. A close second was the silken flan garnished with passion fruit. The moist hazelnut-chocolate brownie with freshly whipped cream and the churros (six spiraling rods of fried dough, rolled in cinnamon and brown sugar and served with chocolate and caramel dipping sauces) were also sweet successes.
So, too, is Caracara, a friendly, spirited restaurant that aims to please.


WORTH IT
THE SPACE Upscale Mexican restaurant with a wall of flickering lights. Complete wheelchair access.
THE CROWD Big and small groups, including families with children. (There is a children's menu, with entrees at $8.) The staff is attentive and caring.
THE BAR A U-shaped separate bar with seating for about 35 people on stools and in semicircular minibooths suitable for two. Full bar. The wine list has 23 selections by the bottle ($22 to $75) and 11 by the glass ($7 to $8).
THE BILL Lunch entrees, $7 to $18. Dinner entrees, $14 to $22. Prices are reasonable and portions are large. American Express, MasterCard, Visa and Discover accepted.
WHAT WE LIKED Guacamole, tortilla soup, house salad, shrimp ceviche, beef taco a la plancha, salmon manchamanteles, red snapper Veracruzana, pork chop, short ribs, apple pie, flan, brownie, churros.
IF YOU GO Open Sunday 11 a.m. to 10 p.m.; Monday through Wednesday, 11:30 a.m. to 10 p.m.; Thursday and Friday, 11:30 a.m. to 11 p.m.; Saturday, 11 a.m. to 11 p.m. Brunch is served Saturday and Sunday, 11 a.m. to 3 p.m. Reservations are encouraged.
RATINGS Don't Miss, Worth It, O.K., Don't Bother.

Article quoted from the NY Times by Joanne Starkey, published September 30th, 2011.